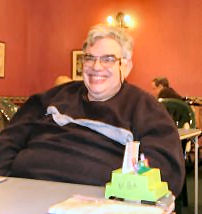 Frank Hacker
Frank Hacker is a recovering actuary, writer, and accomplished bridge player who resides in Barre, VT. He is the editor of and prolific contributor to Table Talk, which is the newsletter of Unit 175. His articles are shown here with the kind permission of Frank and that unit.
"Ruff and ..." features a hand with an extremely unusual tactic necessary in the end game.
"Eight Ever, Nine Never" puts that ancient bromide to the test on a hand that also included a tricky bidding problem.
Frank provided some historical perspective on the evolution of the process of counting points for high cards and distribution in his first article.