NEBridge - Southbridge Regional, February 2023
The Presidential Regional
Southbridge, MA
Tuesday, February 7 - Saturday, February 11, 2023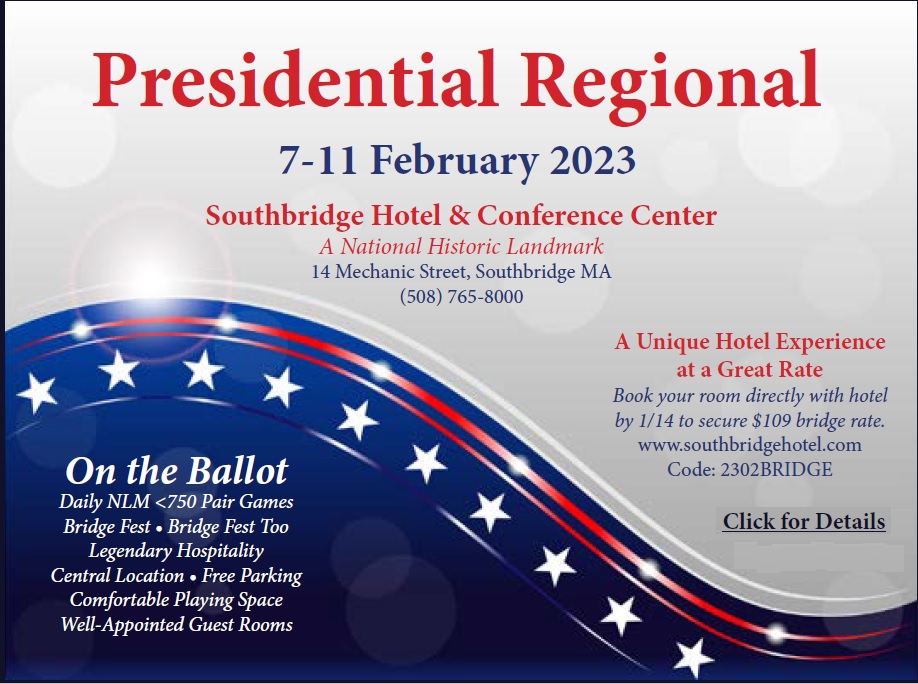 The District 25 Presidential Regional will be held in Historic Southbridge, MA, just minutes away from our traditional location in Sturbridge, MA.
THE EVENT
The Presidential Regional will run 5 days, featuring many popular events with many opportunities for GOLD points:
Gold Rush Graduate Pair events (0-2250 MPs)
Non-Life Master Pair events (0-750 MPs)
Knock-In Kock-Out Team (KIKO) events (bracketed with similar MP level teams)
Open and Non-Life Master Swiss Team events
Super Evening Side Games
Every day will feature special events, spectacular hospitality and friendly play. The full schedule can be found here.
In addition, the Bridge Fest for New and Advancing players expands into a 2 day event!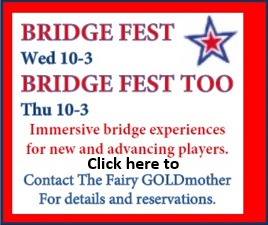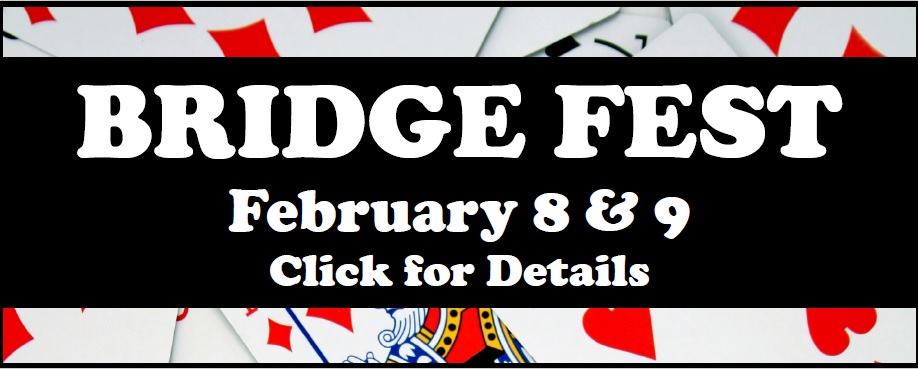 PARTNERSHIPS
An online partnership service is now available for the Southbridge Regional. Click on the event type below to access it:
THE LOCATION
The Presidential Regional will be held at the Southbridge Hotel and Conference Center, a registered Historic Landmark, nestled in the rolling hills of the Connecticut River Valley. It is a short (5 miles SouthEast) distance from I-90/I-84 interstate junction in Sturbridge.
Street Address:
14 Mechanic Street
Southbridge, MA 01550

To guarantee the $109 room rate, make your hotel reservations by January 14th. Mention NEBC when you call.
LOCAL RESTAURANTS
In addition to the on-site food venues and spectacular hospitality at the Conference Center, there are numerous dining opportunities in and around the town of Southbridge.
Click here for a Southbridge Restaurant Guide.
WEATHER
Click here for the most recent weather update.
More details coming soon to this page, check back often!